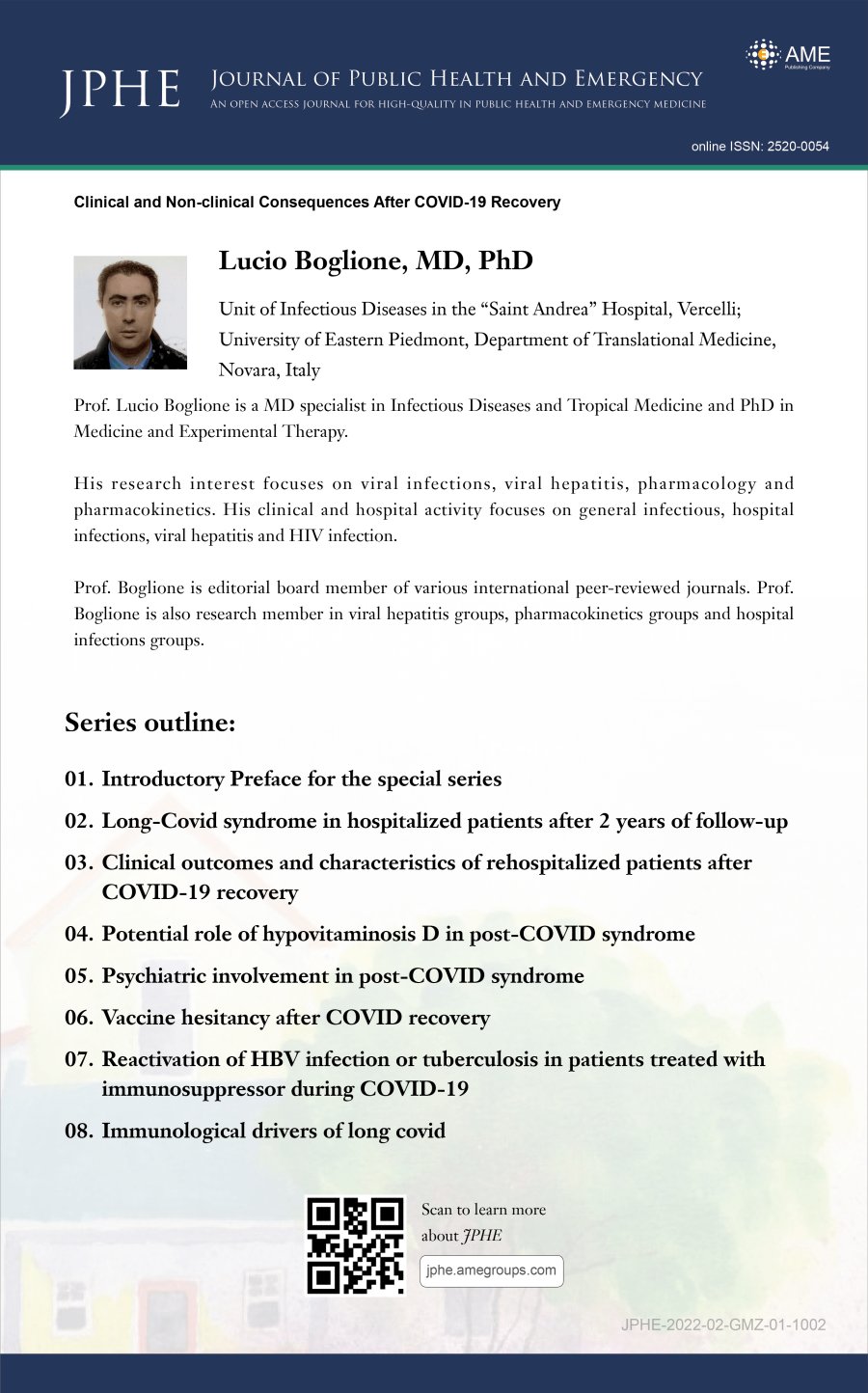 This series on "Clinical and Non-clinical Consequences After COVID-19 Recovery" is edited by Dr. Lucio Boglione from University of Eastern Piedmont (Italy).
Lucio Boglione, MD, PhD
Unit of Infectious Diseases in the "Saint Andrea" Hospital, Vercelli; University of Eastern Piedmont, Department of Translational Medicine, Novara, Italy
Prof. Lucio Boglione is a MD specialist in Infectious Diseases and Tropical Medicine and PhD in Medicine and Experimental Therapy.
His research interest focuses on viral infections, viral hepatitis, pharmacology and pharmacokinetics. His clinical and hospital activity focuses on general infectious, hospital infections, viral hepatitis and HIV infection.
Prof. Boglione is editorial board member of various international peer-reviewed journals. Prof. Boglione is also research member in viral hepatitis groups, pharmacokinetics groups and hospital infections groups.
Series outline:
Introductory Preface for the special series
Long-Covid syndrome in hospitalized patients after 2 years of follow-up
Clinical outcomes and characteristics of rehospitalized patients after COVID-19 recovery
Potential role of hypovitaminosis D in post-COVID syndrome
Psychiatric involvement in post-COVID syndrome
Vaccine hesitancy after COVID recovery
Reacutization of HBV infection or tuberculosis in patients treated with immunosuppressor during COVID-19
Immunological drivers of long covid
Disclosure:
The special series "Clinical and Non-clinical Consequences After COVID-19 Recovery" was commissioned by the editorial office, Journal of Public Health and Emergency without any funding or sponsorship. Dr. Lucio Boglione is serving as the unpaid Guest Editors for the special series.