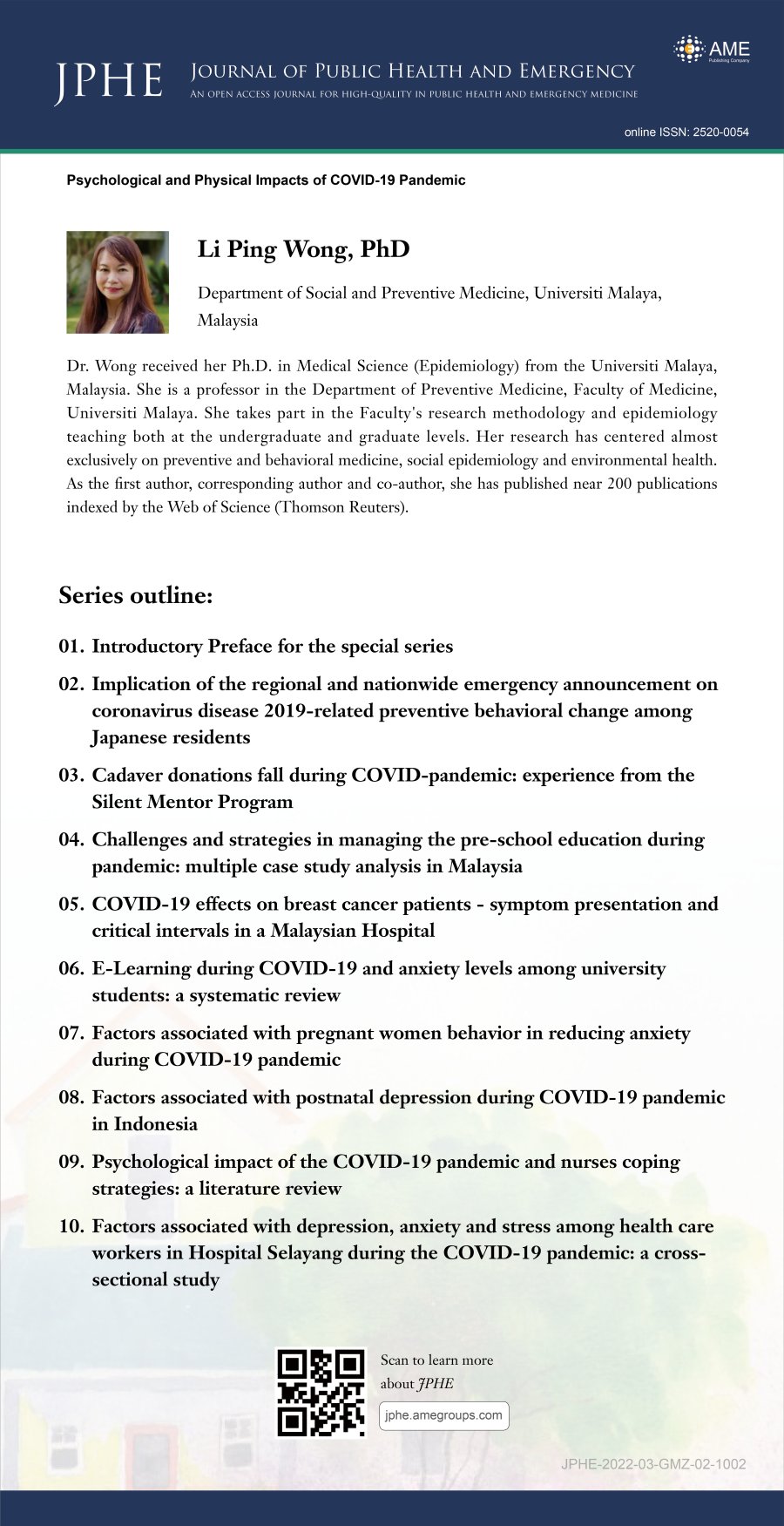 This series on "Psychological and Physical Impacts of COVID-19 Pandemic" is edited by Prof. Li Ping Wong from Universiti Malaya, Malaysia.
Li Ping Wong, PhD
Department of Social and Preventive Medicine, Universiti Malaya, Malaysia
Dr. Wong received her Ph.D. in Medical Science (Epidemiology) from the Universiti Malaya, Malaysia. She is a professor in the Department of Preventive Medicine, Faculty of Medicine, Universiti Malaya. She takes part in the Faculty's research methodology and epidemiology teaching both at the undergraduate and graduate levels. Her research has centered almost exclusively on preventive and behavioral medicine, social epidemiology and environmental health. As the first author, corresponding author and co-author, she has published near 200 publications indexed by the Web of Science (Thomson Reuters).
Series outline
Introductory Preface for the special series
Implication of the regional and nationwide emergency announcement on coronavirus disease 2019-related preventive behavioral change among Japanese residents
Cadaver donations fall during COVID-pandemic: experience from the Silent Mentor Program
Challenges and strategies in managing the pre-school education during pandemic: multiple case study analysis in Malaysia
COVID-19 effects on breast cancer patients - symptom presentation and critical intervals in a Malaysian Hospital
E-Learning during COVID-19 and anxiety levels among university students: a systematic review
Factors associated with pregnant women behavior in reducing anxiety during COVID-19 pandemic
Factors associated with postnatal depression during COVID-19 pandemic in Indonesia
Psychological impact of the COVID-19 pandemic and nurses coping strategies: a literature review
Factors associated with depression, anxiety and stress among health care workers in Hospital Selayang during the COVID-19 pandemic: a cross-sectional study
Disclosure:
The special series "Psychological and Physical Impacts of COVID-19 Pandemic" was commissioned by the editorial office, Journal of Public Health and Emergency without any funding or sponsorship. Li Ping Wong is serving as the unpaid Guest Editor for the special series.